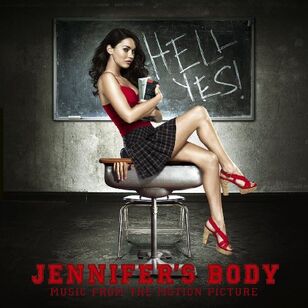 The film's soundtrack was released by Fueled by Ramen on August 25, 2009, and featured previously released music by various indie rock and alternative rock bands such as White Lies, Florence + The Machine, Silversun Pickups and Black Kids.
It also features pop punk band All Time Low and electropop singer Little Boots. In addition, the album features new songs from pop rock artists such as Cobra Starship and Panic! at the Disco and Paramore's singer Hayley Williams.[58] The first single from the soundtrack is "New Perspective" by Panic! at the Disco.
The album received a 3 out of 5 review from Allmusic, who described the album as having "a slightly different spin, mixing indie with the more expected punk, emo, and metal".
The BBC wrote an unfavorable review of the album, stating that "This assortment of acts says nothing of its parent film, beyond the occasional reference to school days and nods to something nasty coming this way".
The ending sequence of the film itself features a song, "Violet", from the album Live Through This by Hole. This same album also features a song entitled "Jennifer's Body." In total, the film features 22 songs, most of which are included on the soundtrack.
Track Listing
Edit
Track list
No.
Title
Writer(s)
Original artist
Length
1.
"Kiss with a Fist"
Matt Allchin, Florence Welch
Florence + the Machine
2:04
2.
"New Perspective"
John Feldmann, Brendon Urie
Panic! at the Disco
3:47
3.
"Teenagers"
Hayley Williams
Hayley Williams
2:05
4.
"New in Town"
Victoria Hesketh, Greg Kurstin
Little Boots
3:16
5.
"Finishing School"
Chris Carrabba
Dashboard Confessional
3:25
6.
"Through the Trees"
Andrew Ampaya, Ryan Levine
Low Shoulder
5:04
7.
"Time"
Cute Is What We Aim For, Feldmann, Shaant
Cute Is What We Aim For
3:57
8.
"I Can See Clearly Now"
Johnny Nash
Screeching Weasel
2:17
9.
"Chew Me Up & Spit Me Out"
Cobra Starship, Sam Hollander, Dave Katz
Cobra Starship
3:57
10.
"Toxic Valentine"
Alex Gaskarth, Jimmy Harry, Tony Kanal
All Time Low
2:52
11.
"I'm Not Gonna Teach Your Boyfriend How to Dance with You"
Black Kids
Black Kids
3:37
12.
"Death"
Jack Brown, Charles Cave, Harry McVeigh
White Lies
5:00
13.
"Celestial Crown"
JD Cronise
The Sword
2:00
14.
"Little Lover's So Polite"
Brian Aubert, Christopher Guanlao, Joseph Lester, Nicole Monninger
Silversun Pickups
4:59
15.
"Ready for the Floor"
Alexis Benjamin Taylor, Owen Clarke, Al Doyle, Joseph Goddard, Felix Martin
Lissy Trullie, Hot Chip
4:00
Music Videos
Edit